Yuji Matsuda Announced to Be Highly Cited Researchers 2017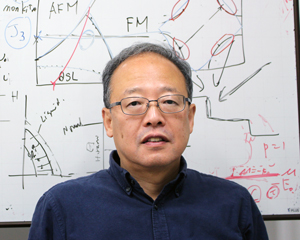 Prof. Yuji Matsuda
Clarivate Analytics (Formerly the IP & Science Department of Thomson Reuters) has selected Prof. Yuji Matsuda, Department of Physics, as one of the Highly Cited Researchers of 2017 in the field of physics.
This year, about 3,300 researchers in 21 fields including biology, chemistry, geophysics and physics were selected. They have distinguished themselves by publishing a high number of papers that rank in the top 1% by citations in their respective fields of study over a recent 11-year period spanning from January 2006 to December 2016.
Such consistent production of highly cited papers indicates that the work of these researchers has been repeatedly judged by their peers to be of notable significance.
Prof. Matsuda was named as Highly Cited Researcher once before, in 2014.
Access the Clarivate Analytics website to see all the Highly Cited Researchers of 2017 and their areas of expertise.